2018 Speakers
Video of the Jan 20 rally is here! Click to view the inspiring messages shared on Jan 20.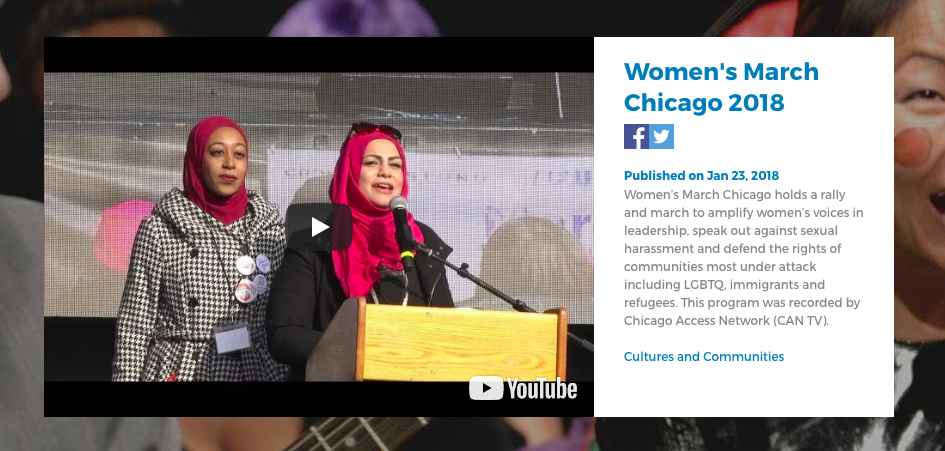 Jan 20, 2018 included an incredible slate of speakers, performers, and elected officials, there to encourage women and allies to get out and vote in the March 20 primary and November 6 general elections. Women need to make their voices heard through leadership and voting! The speakers also represent the #MeToo movement of 2017.
EmCee – Fawzia Mirza
9-11 a.m. – Performances, Video Statements, Accessibility Team Spotlight
DJ HeilyB

Faces for Radio

Second City's "She the People Cast"   

Lights of Zion
10:30 a.m. – Accessibility Team Spotlight
Rachel Arfa,Disability Rights Advocate
Risa Rifkind, Disability Rights Advocate
Michelle Garcia, Disability Rights Advocate
Jazmine Coates, Disability Rights Advocate
Abla Gharib, Disability Rights Advocate
11 a.m. – Speakers & Performances
Tahera Ahmad, Associate Chaplain and Director of Interfaith engagement, Northwestern University

Asha Binbek, CAIR Chicago

Channyn Lynne Parker, Transgender Activist

Bridget Gainer, Cook County Commissioner

Chakena Sims, Board of Directors, Chicago Votes

Ann Scholhamer, WMC Board Member
Michele Smith, Chicago Alderwoman, ward 43

Bill Foster, U.S. Congressman (note: did not make it due to U.S. government shutdown)

Raja Krishnamoorthi, U.S. Congressman (note: did not make it due to U.S. government shutdown)

Anna Valencia, Chicago City Clerk

Celina Villanueva, New Americans Democracy Project/Youth Engagement Manager, ICRR

Carrie Kiley, WMC Board Member

Amber Smock, Access Living & ADAPT

Emily Kraiem, WMC Board Member

Tom Steyer, Need to Impeach

Ari Asfar and Hamilton Cast Members

Liz Radford, WMC Board Member

Michelle Mbekeani-Wiley, League of Women Voters

Jaquie Algee, WMC Board Member & Jessica Scheller, WMC Board Member

Toni Preckwinkle, Cook County Board President

Jessica Scheller, WMC Board Member

Lisa Madigan, Illinois Attorney General

Kim Foxx, Cook County State's Attorney

Quiana McKenzie, Regional Campaign Finance Advisor, Emily's List

Shani Smith, WMC Lead Marshal, Safety Instructor, SEIU Healthcare Illinois

Claire Shingler, WMC Executive Director

Greg Kelley, President of SEIU Healthcare IL, IN, KS, MO

K. Sujata, President and CEO, Chicago Foundation for Women

Suzette Wright, Former Chicago Ford Assembly Plant Employee, Host of bi-weekly show Urban Dialog with Suzette

Bryant Jones Choir & Deborah Lane – Performance

DJ Heather – Performance
End of Rally / March on!
Click here for a PDF of the Speaker Bios and also Performer Bios.