Women's March Chicago 2018: March to the Polls FAQs
October 13 at Columbus and Congress
9:00am-1:00pm - festival style Voter Village
9:00am - First Time Voter Experience opens
10:00am - Rally activities begin on Main Stage
12:30 - March begins after Rally
These are answers to questions from the Women's March Chicago Facebook page and other sources. This is an evolving document. If you have a question you'd like answered, please email [email protected]. We cannot guarantee every question will be published on this page, but we will do our best to answer.
If you want full details on the accessibility area, please click here.

GENERAL QUESTIONS ABOUT THE MARCH
What is the objective of the Women's March Chicago 2018: March to the Polls rally and march?
On October 13, 2018 marchers will come together in downtown Chicago at the intersection of Congress and Columbus to celebrate the spirit of the resistance efforts over the past year and unite to focus on the 2018 elections and beyond. See the full Mission Statement and organization is HERE.
Event Map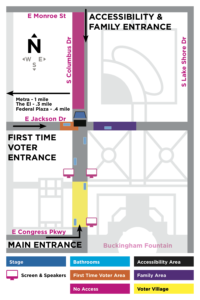 What are the logistics details?
Site opens at 9am when the Voter Village gets underway and First Time Voter Experience opens.
Enter at Congress and Columbus
Enter the Family Zone and Access for Persons with Disabilities at Monroe and Columbus
Enter the First Time Voter Experience at Michigan and Jackson.
Activities begin on the main stage around 10am.  The March will start as the rally ends, around 12:30pm.
The Voter Village booths will be open and active until 1pm.
March route

March West to Michigan
North on Michigan to Jackson
West on Jackson to Clark
North on Clark Street to Federal Plaza
The primary march will terminate in Federal Plaza.  At that point marchers who are ready to vote can follow marshals on to the Chicago and Cook County Early Voter sites.
Marchers not continuing on to vote are asked to move immediately towards their transit and meet up points to exit the area safely. This will allow ALL the participants in the march to reach Federal Plaza from the rally site without creating a bottleneck.
These plans for the march are based on currently expected weather and turn out – please note that this may change as we work closely with our professionals and assess the situation. We are excited to have everyone participate in a fun and enjoyable day. Our exceptional Safety Marshals and Directional Volunteers are being trained and will be updated on the ground the day of the event for everyone's success. The resounding message from the previous January marches was that the emotional experience of the day transcended the details. We know that uncertainty can be tricky, but please know that we are working hard to plan an amazing day, and that we trust the day will present great opportunities no matter how it launches.
The Chicago Temple at Washington and Clark will open it's doors as a meet up spot before the march and serve as a warming station during the event. Please feel free to utilize their space to get warm, sit and rest, have a place for your children to play and get warm, or nurse.
Can you provide details on rally and march accessibility for attendees with disabilities?
There will be a protected entrance and seating area for persons with disabilities at Monroe and Columbus. Please note that if you do not have accessibility considerations or children, you will enter the rally at Congress and Columbus.
Can you provide details on rally and march accessibility for families with children?
Please check out our Access page for full details.
March to the Polls is dedicated to facilitate an accessible, supportive experience for participants, including those marching with children.  Families will be able to enter the family area (located on Jackson east of Columbus) via an entry at Monroe and Columbus. Please note that if you do not have accessibility considerations or children, you will enter the rally at Congress and Columbus.
What if there is an emergency medical issue?
We will have EMT services onsite, and work with the Chicago Fire Department for city-provided services.
Will there be any food or drinks available?
We suggest packing a lunch. At this time, food and drink are not planned onsite. If you do purchase and bring in food and drink items, please make sure to properly dispose of any waste, which may mean carrying it with you to a garbage can offsite as many garbage cans will be removed from the rally and march area.
Please patronize coffee shops and restaurants located throughout the downtown area—feel free to stop there first and bring your food and drink with you. The Chicago Temple at Washington and Clark will also open it's doors as a meet up spot before the march and serve as a warming station during the event. Please feel free to utilize their space to get warm, sit and rest, have a place for your children to play and get warm, or nurse.
Public Transit Updates
Metra updated schedules at https://metrarail.com/node/5683
The South Shore Line has expanded service. Find updated schedules at http://www.mysouthshoreline.com/
Parking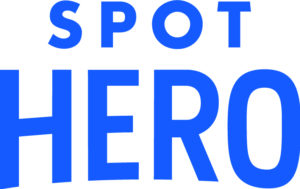 We recommend booking convenient and affordable parking in advance through SpotHero, the nation's leadingparking reservation app.
To reserve your parking spot, visit Women's March to the Polls SpotHero Parking Page and book a spot with rates up to 50% off drive-up:
New to SpotHero? Click here to download the SpotHero app.
Additionally, The Millennium Garages (available on SpotHero at a discount) offer the most convenient parking to the March. Millennium Park and Millennium Lakeside Garages have entrances on Columbus Drive, north of Monroe or south of Randolph. Millennium Park Garage has entrances/exits on lower Randolph, also.
Millennium Garages offer the closest and most convenient parking for the March.  Grab those spots via Women's March Chicago SpotHero Parking Page as well for discounted rates or go direct to that garage site via this link will specifically direct you to
Grant Park North (25 N. Michigan) and Grant Park South Garage (325 S. Michigan) can be accessed on Michigan Ave. at Van Buren or Jackson Streets (GPS) or at Madison, north of Monroe or south of Randolph (GPN).
PLEASE CHECK ALL STREET CLOSURES AND DETOURS ON WOMEN'S MARCH ON CHICAGO GROUP ON FACEBOOK FOR LATE-BREAKING UPDATES. Millennium Garages has parking accessibility for attendees with disabilities in all four garages.
WHAT CAN I BRING?
Signs! What types of signs are allowed?
We encourage marchers to make their own signage, expressing their own concerns/demands for women's/human rights. Please refrain from using any poles or sticks on signs. Any material such as wood and metal to hold signs up on could unintentionally harm other marches if not held securely, not to mention heavy! Please only bring hand held signs without any support or extender.
Are backpacks and other bags allowed?
As of now, yes but they are not recommended. If you have a clear bag, it is recommended you use that for your day of items.
We also encourage you to be responsible for the items you bring such as empty water bottles, food wrappers, etc. Please note there may be reduced garbage facilities around the rally site and march route, so you may have to carry items for disposal with you. We want to be respectful of the city and the people who live downtown, so please dispose of items appropriately.
I'm making signs or wearables I'd love to share (freely) the day of the march.  How do I do this?
Please connect on our social media platforms to arrange to exchange these items. Please note that any posts selling items will not be approved.
Can I bring signs or items to sell?
Free items are welcome.  No outside soliciting or sales will be allowed.


MARCHERS
I'm a man. Can I march?
We encourage women and allies of women to march.  Everyone who supports women's rights and human rights should march. Please see our Identity Statement, which further defines who Marchers are.
Can I bring my young children to march?
Yes. many of us are excited to include our families. Families will have a more protected space on Jackson east of Columbus. Please enter at Monroe and Columbus to access this area. We will have a Jumbotron and speakers in this area and work with directional and safety volunteers to keep this area protected for families and children.
Be mindful that while we anticipate a peaceful march, any large gathering like this poses risks. The March is primarily geared toward adult participants and some language and signage used during the march may be confusing to or inappropriate for young children. There is always the possibility of counter-efforts as well, and language used to protest the March may be offensive or scary to young children.
I'm a teenager. Can I march?
Yes. Your engagement in our country's future is critically important. These are suggested guidelines for effective marching, but are certainly not definitive. You and your parent should use your own judgment.
March with an adult you know or in a supervised group with an adult you know.
Do not agree to meet and march with strangers you encounter online even if their online identity suggests they share your views, opinions, or values. Online identities can be purposefully deceiving. Stick with people you know and trust at all times.
Know your location! If you get lost or separated from your group, be sure you know where you began so that you can re-connect with your group or find your way home at the end of the march.
Make awesome signs to express why you're marching.
Share your experience with your friends.
I'm an educator and my high school or college students want to attend with me, or alone. Is that okay?
Yes. It is up to you to create and maintain a smart plan for bringing minors that are not your own children. We would love to see groups of marchers identified as their school or organization. We are asking these groups to stay after to help clean up our beautiful city.
REGISTERING A GROUP OR PERSON
Do I need to RSVP?
You can use the Facebook event or register through the website for individuals and groups.
My group wants to come via public transportation– do I need to RSVP?
While registering is not required, it is very helpful to us in planning logistics for the day of the event and in connecting people. Please click here to register a group.
My group is chartering a coach– do I need to RSVP?
Yes - Group registration can be found here. All coach buses should drop passengers at Balbo and Columbus. Free parking will be provided at McCormick Place 18th Street Parking.
Information for your coach drivers:
The downtown area from BALBO (on the North ) to WACKER (on the South), from I-90 on the WEST to Michigan avenue on the EAST should be avoided.
You should enter the rally site from EITHER the north or south by traveling EAST on Roosevelt Street to Michigan Avenue.
Directions from I-90 EITHER the North or South
SOUTHBOUND

Exit W Taylor Street Exit 52A
Left on DesPlaines Street (south)
Left (east) on Roosevelt Street to Michigan Avenue
Left (north) on Michigan to Balbo
Continue to Columbus
NORTHBOUND

Exit at Exit 53A
Keep left to continue on Exit 53A, follow signs for Canalport Ave/Cermak Rd and merge onto S Union Ave
Left (north) on S Ruble St
Right (northwest) on S Canalport Ave
Right (east) on 18th St
Left (north) on Michigan
Right (east) on Balbo
Continue to Columbus
Drop passenger at Balbo and Columbus, north or south of intersection whatever is clear
Parking for Registered Charter Buses: Once passengers are dropped off, take Lake Shore Drive SOUTH  to Columbus, to Roosevelt, to McCormick Place 18th Street parking lot (no charge). NOTE: this is only for charter buses who have registered here. No others will be allowed to park.
MAP TO CHARTER BUS PARKING: https://goo.gl/maps/YFxQ3sNR8Kv
My group wants to have a public meet-up location…can you help me?
Yes - you can register your meet up location here!
I'm coming alone, can I meet-up with someone to go?
INDIVIDUALS – find a group to march with here. 
MARKETING
How did you choose certain companies to produce and distribute apparel? We focus on women owned organizations as well as commonly used platforms for fundraising, ticketing, and larger scale apparel fundraising. We will be rolling out new initiatives regularly, so please stay tuned to the website and social media for how you can purchase your own march merchandise.
How did you choose certain items?
We chose items to put up for sale based on pricing, items popular through Bonfire, prior experience of some team member and volunteers, and the experience of many other sister-city Marches.
Will shirts/hats/buttons be available at the march?
We will not have any sales the day of the event, in order to not spread our volunteer efforts too thin.
I've got a great idea of an item I can help you sell for fundraising. Are you interested?
YES! Please contact us at [email protected] with your idea. Please use the subject line "Fundraising Idea"
I want to sell items in the closed group to raise money for _____(amazing advocacy organization).
There are so many great organizations and opportunities out there. We can't possibly research them to make sure each item posted is legit. We can only do the due diligence on our own vendors. No third party sales of Women's March Chicago or other items or fundraising requests will be allowed, any posts made will be deleted.  Feel free to share on your personal Facebook accounts and networks.
WEBSITE and FACEBOOK PAGES
What about people who are not on Facebook or the internet? How will they learn about the march?
Please send people to our website:  www.womens121marchonchicago.org
I need fliers.
Access all our materials here - please check back regularly and stay tuned to the Facebook page for updates.
Why are comments turned off on the Facebook event page?  Like the website, the event page is for disseminating information. This is where you can RSVP and get logistical information.
If you want to discuss this march or have questions, please go to our Facebook (non-event) page: womensmarchchicago.
March Organization Efforts
Are you affiliated with the larger march and rally of a similar name happening in Washington, DC?
We are not directly affiliated with Women's March on Washington, DC, but we honor the sentiments of the DC march. It's our goal to amplify the positive message that came out of the DC March and more than 600 other women's marches held that day around the world, but we have our own Identity and Mission Statements.

Is the March organization diverse?
The first organizers met online in mid-November, 2016, compelled to combat the divisive/dangerous rhetoric and actions of the 2016 presidential campaign. The organizers at the first meeting were White, Latina, gay, straight, survivors of trauma, Buddhist, Christian, agnostic. At that first meeting, most did not know one another. Since that first meeting, our organization has grown larger and more diverse. Diversity is a top priority. The March organizers are diverse and continuing to connect and work with diverse groups and individuals around the City.
As we've continued to work to connect with other organizers at the local and state level, as well as across the country, Women's March Chicago has put an emphasis on diversity through learning from and working with a variety of organizations concentrating on our areas of concern. We are always looking for new opportunities to help amplify the messages of groups doing wonderful work in our community.
How is the March planning team organized?
The initial organizers helped develop leadership and volunteer teams drawn from our volunteer base and outreach to community organizers, women's organizations, labor unions, and other groups. Our volunteers manage various areas including media, day-of logistics, marketing materials, permits, speakers, and other areas too numerous to mention. There's a lot of talent out there and people have the open opportunity to thrive and contribute.
Are you a non-profit?
We started as an LLC, but have recently established a 501(c)4 organization and a 501(c)3 non-profit partnership. The 501(c)4 tax organization will be focused on direct political actions once it is established. The non-profit partnership will allow us to work on energizing and educating women and their allies through programming and partnerships.
Who else supports the Women's March Chicago?
Click her for a list of our organizing partners.
Who will speak at the March?
We work hard to finalizing inspiring speakers for each event - please stay tuned!
How do I get my own contacts–interested organizations or individuals–involved?
Please spread the word via Facebook. Click here for the event and here for the group.  You can also reach out to our outreach coordinator at [email protected]
Are there fliers and similar materials?
Yes! Please help us spread the word using the materials found here.
Are there fliers available in Spanish?
Yes, on the Spread the Word tab.
Why is the original Facebook page private?
When the Facebook group was started last year, as people showed interest, we wanted to try to avoid "trolling" activity. We made the page private and have been using moderators to screen for trollers as they accept new members. "Trolling" is deliberately nefarious activity—completely different than genuine debate, argument, or disagreement. Our criteria for identifying "trollers" is racist, misogynistic, or similarly threatening statements or images on FB profiles. We've had very few to no "trolls" on the page because of the private status. We work to monitor activity on our Facebook group, and work to identify and block any trolls who make it past our initial screening. All posts must be approved by moderators. This is to try to keep the number of posts from overtaking members' news feeds, avoid duplicate posts, minimize trolling behavior, and prevent third party marketing and promotion. Our goal is to have a community who keeps each other informed, engages in productive and respectful dialogue, and is a resource to everyone who wants to be involved.
When the FB page reached 5,000 members, the security setting was locked in—this is a function of FB. We cannot take this current page back to "public"—we can only keep it as it currently stands or increase the security to "secret" should the need arise.
What do legal observers and marshals do at the march?
Legal observers will be wearing green hats, and are third party individuals who are there to record and report any unlawful or improper action. They are there to monitor police activities to ensure marcher's rights are protected, and may write incident reports if necessary. They may be using phones or cameras to record and document any incidents they observe. Legal observes are requested by march organizers, and are not affiliated with either the city or the march.
Marshals are volunteers who have been recruited by the Women's March on Chicago. Marshals are an essential part of the safety team. A marshal's main role is to make sure everyone moves along the march route safely and has a good time.
They serve as a buffer between the marchers and the public and police, and have gone through training in de escalation and handling conflict, and will call for help if it is needed.