2. Educate
Learn about the issues and the structure of our state and federal government.
A knowledgeable constituent is one that will be heard!
Look at the Library below and more resources further down the page.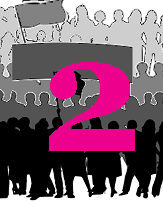 Book Suggestions from Our WMC Members
This collection is for Women's March Chicago readers; there are two collections presented together, one for adult-level reading and one for elementary and middle school level readers. The books display randomly.
Click on the books and a pop-up will display the book information and offer the opportunity to view the entire library on Library Thing (no account is needed to view the collection). Click on the link for member called "prpresourceguide."
Coming soon: a listing of various resources including books, podcasts, websites, etc available via a cloud sharing service.
MORE INFO: Books come in many different formats and in some cases, languages. Use the information for the items here and check with your public or university / college library. E-books, large print, and other formats could be available to patrons.
Thanks to our many members of the Womens March Chicago Facebook page for their many suggestions!
To find a library near you, click the link below to go to the WorldCat LIbrary Listing. Enter your zip and narrow the search on the left by type of library.
https://www.worldcat.org/libraries