UPDATED with 2020 INFO !!!
Voter Guides & Other Important Info:

Chicago: Ballot Ready
Ballot Ready provides information for specific elections as well as other valuable election-related information. Provide your zip code and the site customizes information for your voting activities.
Chicago: BoE Sample Ballot
https://chicagoelections.com/en/your-voter-information.html
On this site: locate polling places for voting or registering, verify voter registrations, obtain a sample ballot, find public officials contact information, check status of Vote-by-Mail application.
Enter personal info and get some or all of the above options.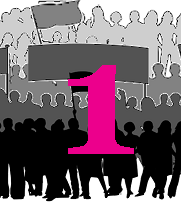 1.  Vote
VOTING is essential to the community. Votes give voice; votes set agendas and change political landscapes. Here some important dates and information regarding early voting. NOTE: Some early voting information is forthcoming, so check closer to Election Day for updates.
Every county's site is different. Once at your county website, be prepared to search for information on early voting, mail-ballot applications, election judges and poll locations.
IMPORTANT DATES 2020    In Illinois, the term "absentee voting" is now a relic; we vote by mail or in person. However, with early voting available, voters have the ability to schedule their trip to the polls.
Here are some important voting dates in the 2020 elections.  We have a primary in March, followed by a General Election in November. Click on this link below for the BOE calendar: 
FIRST, make sure you are registered. Moving is a primary reason why people have issues with their registration. Check here is see if you are registered and that the information is correct:
https://www.headcount.org/verify-voter-registration/
THEN come here to register. The form can be filled out online or downloaded for in-person registering campaigns. The form is available in multiple languages to
Important Documents from the Board of Elections 
(all links open up PDF files, you will need a PDF viewer):
Reminders from the League of Women Voters of Illinois:
You must be a United States Citizen.
You must live in your election precinct at least 30 days prior to Election Day.
Not be convicted and in prison (Voting rights restored automatically upon release from prison).
Not claim the right to vote anywhere else.
Illinois Online Voter Application:  You will need a valid Illinois driver's license or State ID and the last four digits of your social security number. Link to app follows: https://ova.elections.il.gov/
Illinois Mail-in Form:  You need the last 4 digits of your social security number or Driver's license or State ID number. Illinois Application for vote by mail ballot will be available for download on
12/18/2019

.