January 20, 2018 – March to the Polls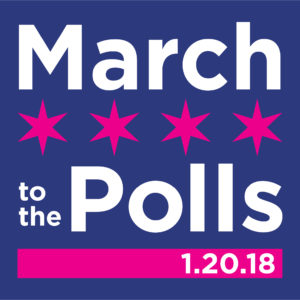 Join us on January 20, 2018 at Congress and Columbus for March to the Polls, the Second Annual Women's March Chicago. We will have music and video starting at 9am with the rally starting at 11am.
The January 21, 2017 Chicago march was powerful. 250,000 women and allies showed up in Chicago to raise their voices for issues each of us hold dear. That historic day embodied the ongoing fight for women's rights.
We march on!
Women's March Chicago is excited to launch "March to the Polls." On January 20, 2018 women and allies will come together in downtown Chicago to celebrate the spirit of the resistance efforts over the past year and unite to focus on the 2018 elections and beyond.  Register groups and individuals to join March to the Polls now.
The fight for women's rights and social justice through political engagement continues. WMC organizer Jessica Scheller said, "as we approach local, mid-term, and gubernatorial elections in 2018, it's even more critical that women are engaged and involved. If we want to see progress in this city, state, and country we need women's votes, voices, and leadership,
The rally will be taking place at Grant Park in downtown Chicago. Enter the rally site at Congress and Columbus. Details for the march can be found here. Access for persons with disabilities and families is at Monroe and Columbus. Full access details can be found here. Participants can expect to make their voices heard to city, state, and national administrations. The march will also serve as a kick-off for programming that empowers voters to support women's rights and social justice.
Jaquie Algee, WMC organizer and champion, said "the fight for women's rights is only becoming more crucial. In 2017, activists, new and seasoned, joined advocates in the fight for women's rights and social justice. In 2018 we celebrate that movement, and march our demands to the polls."
Women's March on Chicago brings together women and allies in support of women's rights including equal rights, equal pay, reproductive justice, affordable healthcare, affordable childcare, racial justice, voting rights, freedom from violence, LGBTQ+ rights, immigrant rights, fair wages, access for persons with disabilities, environmental protections, and other critical areas of focus.
Women's March Chicago Email List Signup